Tumbler Plus 6 Pack Jerky!
TUMBLERJERKY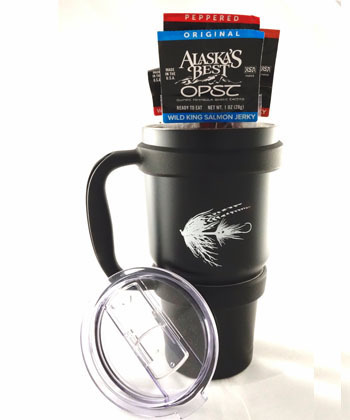 What's better than our OPST Intruder Logo Tumbler? Our OPST Intruder Logo Tumbler full of salmon jerky. You get the perfect travel mug that will keep your drink hot or cold a long, long time, and you get two each of our Original, Peppered and Teriyaki king salmon jerky.
Alaska's Best King Salmon Jerky is made from all-natural, wild salmon from Alaska. Each salmon is hand filleted, carefully seasoned, and slow smoked over cherry and alder wood for over 24 hours. The jerky is high in Omega-3 fatty acids and has more protein that beef jerky. It also doesn't contain all of the chemicals and preservatives found in most beef jerky.
The Alaska salmon fishery is one of the world's most sustainable fisheries, and your support helps keep fishermen in business, which in turn bolsters opposition to harmful resource extraction projects like the Pebble Mine.